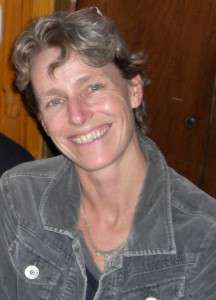 Kate Brown, Associate Professor (Ph.D. University of Washington)
Kate Brown is an Associate Professor of History at UMBC.  She is the author of A Biography of No Place: From Ethnic Borderland to Soviet Heartland (Harvard 2004) which won a handful of prizes including the American Historical Association's George Louis Beer Prize for the Best Book in International European History. Brown's Plutopia: Nuclear Families in Atomic Cities and the Great Soviet and American Plutonium Disasters appeared in 2013 with Oxford University Press. To read more about Kate Brown's new book Plutopia, see www.plutopia.net.
Brown has published articles in the American Historical Review, Chronicle of Higher Education, Harper's on-line edition, Kritika, Aeon Magazine, Slate Magazine and the Times Literary Supplement.   She is a 2009 Guggenheim Fellow, and has been awarded grants from the National Endowment for the Humanities, the Social Science Research Council, the National Council for East European and Eurasian Research, the International Research and Exchange Board, the Eurasia Foundation, the American Council of Learned Societies, Harvard University's Davis Center, UMBC's Dresher Center and the Kennan Institute in Washington, DC. Currently Brown is working on a collection of essays called Being There, which explores place and the construction of space as a springboard for histories of communities and territories which have been silenced or destroyed.
Office: 713 Administration Building | Office Hrs
Contact: 410-455-2961 | kbrown@umbc.edu