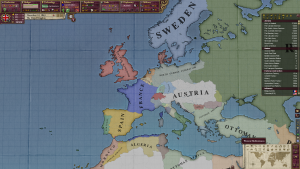 I am a first-year graduate student of history at UMBC. As an undergraduate, I studied European history at UMBC. Now, as a graduate student and TA for the history department, I am writing my thesis on the representation of history in video games.
During my undergraduate career, I worked with the Howard County Historical Society as an archivist. At the same time, I started my own tutoring company, working with students from 4th through 12th grade. In both cases I applied practical skills that I had learned at the UMBC History Department.
After studying French, British, and Spanish political history in my undergraduate career, I have shifted my focus to contemporary interpretations of history in popular media. My thesis discusses the popular history narratives that are offered in historical simulation games. Video games are one of the fastest growing forms of popular media, and many games feature historic settings or plots. While a lot of work has been done assessing the educational value of video games, little has been said about the history in popular games. Yet, whether trying to model poverty, national development, or military conflict, such historical simulations increasingly shape our understanding of the past. My paper will assess what historical narratives are emphasized in games, what narratives are silenced or absent, and how the technical and commercial conventions of the medium drive the developers' decisions. The need to entertain and yet maintain interactivity, the key feature of games which sets them apart from other forms of media, profoundly impacts the kinds of statements games make about the past.
Although my study addresses an unconventional research topic, UMBC's History program has prepared me to tackle this modern question. The History faculty has experts in Digital, Intellectual, and Public History who have provided me with tools to grapple with complex questions about representations of the past.