Distinguished Flying Cross Society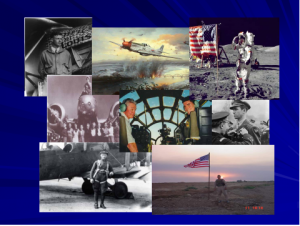 In association with the Distinguished Flying Cross Society, over 200 oral history interviews have been conducted with recipients of the Distinguished Flying Cross from WWII to the present.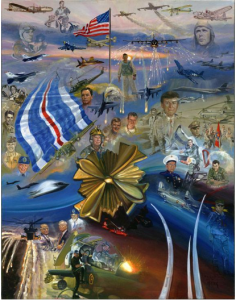 Internationally known artist, Ruth Mayer, painted a collage representing the Distinguished Flying Cross. The painting was inspired by twenty-six individual oral history accounts. The original hangs in the Air & Space Museum in San Diego, California.
The Distinguished Flying Cross Society is a nonprofit organization dedicated to the preservation, perpetuation, and publication of the history and traditions of the men and women who served in all Military Services worldwide and who have been awarded the Distinguished Flying Cross as a result of deeds accomplished during aerial flight.
Watch video. (4 minutes. Windows Media format.)
Watch video. (5 minutes. Windows Media format.)
Projects for UMBC
.
.
Maryland Aviation History Centennial of Flight
Oral history interviews, collections surveys and assessments.  Sponsored by the Maryland Historical Trust.