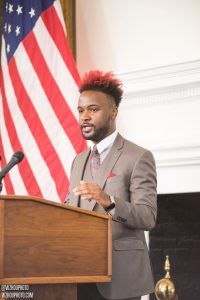 My name is Randall Ainsworth I am a senior undergraduate student at UMBC with a
double major in history and philosophy. During the summer of 2019, I was a fellow in the
Governor's Summer Internship Program through the Public Service Scholars program at UMBC
and was selected as the valedictorian of the program. As a fellow, I collaborated with three other
students from Towson University, University of Richmond, and St. Mary's College of Maryland
to present a policy proposal to the Hogan administration concerning inequities in Maryland
Housing court, and the best ways to ensure that both landlords and tenants have equal access
to information and legal representation.
As part of the fellowship, I interned with the Maryland Department of Labor in the Office
of the Secretary. During this internship I analyzed the impact of federal regulations on Maryland
law and Maryland industries, created marketing materials for the department, and assisted with
the creation of legislative and regulatory concepts. I also wrote a report which informed the
Maryland General Assembly of the impact of a new solar panel legislation, recommended
revisions, and gave a detailed plan for enforcement which promotes consumer safety while also
limiting the financial burden on Maryland residents and local business.
During my time at UMBC I have used skills learned as a history major to pursue
internships which have broadened my knowledge of the law and given me the opportunity to
engage in public service in Maryland. Some of these other experiences include working as a
judicial intern for Wanda Keyes Heard, the Chief Judge of the Circuit for Baltimore City, and
working for the Center for Urban Families, where I created a career readiness and re-entry
program for ex-offenders in Baltimore City. I am currently applying to law school and will
continue to use my skills as a history major to gain a deeper understanding of the law and be an
effective public servant.