The History of Baltimore with Dr. Melissa Blair
This semester, each Wednesday, students gather in Baltimore for Dr. Melissa Blair's History of Baltimore class. The course is held in UMBC's downtown Baltimore classroom in the historic Lion Brothers Building (near MLK Blvd. and W. Lombard St.). Dr. Blair takes full advantage of the class's unique location, leading students through the streets of Baltimore to various historic and cultural sites. Using the city itself as a source, Dr. Blair connects students' readings and papers with historic buildings, parks, and roads.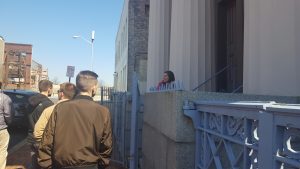 Between visiting historic sites, students also visit public history institutions, meet with professionals in the field, and learn about the process of making history accessible. Students are now well into their semester-long projects, producing practical research documents instead of traditional papers. Although the city was a uniting theme in the paper's projects, students had selected a variety of topics ranging from tattoo parlors to civil war riots.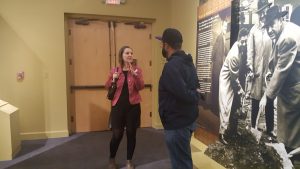 Without a doubt, this class is popular with both the students and the instructor. The students appreciate the unique experiences the city provides. Further, they feel they are learning a lot from meeting with public historians who practice history in a practical setting. By bringing their classroom into the city, students feel their studies come to life.