Turning Boardgames into History Lessons: Monopoly becomes Blockbusting in Baltimore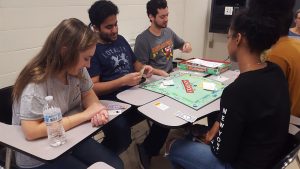 On an early Wednesday morning in Sondheim Hall passing students were met with a peculiar sight. Congregating outside of Dr. Kate Brown's Global History of Commodities was a collection of students with monopoly boards in hand. A jovial atmosphere filled the hallway before class as students discussed their finished products. As students filed into the classroom, they began arranging desks into groups of six. This was no ordinary lecture.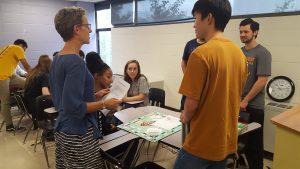 When Dr. Brown arrived, students began unpacking their monopoly boards. With students unboxing their games, Dr. Brown laid out her plan for class. After having played traditional monopoly on the first day of class, Dr. Brown had instructed the students to create their own boards and rulesets. These new games were to highlight the discriminatory housing practices of 20th century Baltimore.
     With the game pieces in place, it became clear how unorthodox these boards were. Not only were the traditional properties replaced with Baltimore namesakes, but custom chance cards and specially marked playing pieces adorned the board. Students quickly rolled to determine their character's race and starting income, two factors which would prove determinant in their experience. Custom rule sets and student-researched chance cards emulated racial discrimination as players competed to buy and sell property.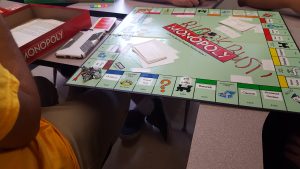 Already well into their games, Dr. Brown roamed the room, stopping in at tables to check in on her students. She explained that monopoly was the ideal game to capture the discriminatory housing practices of Baltimore. The original game's creators were themselves politically motivated, hoping to promote antitrust laws. Drawing from this legacy, Dr. Brown hoped to retrofit the message of monopoly. These new games captured the harsh realities facing the minority populations of Baltimore. Legal, social, and fiscal discrimination threatened the livelihoods and properties of whole populations in the city. The effects of redlining and blockbusting are still seen in Baltimore's highly segregated blocks today.
     Still, as Dr. Brown listened in on the students, it was clear that they were enjoying themselves. Students roared in laughter when a chance card entitle "White Flight" ruined the value of the leading player's properties, effectively taking them out of the game. But beyond all of the fun, Dr. Brown is confident that these games had a positive effect on her students. The games, although fun, forced students to look critically at the history of injustice and discrimination which is still felt today.
Andrew Arvizu
Graduate Student of History