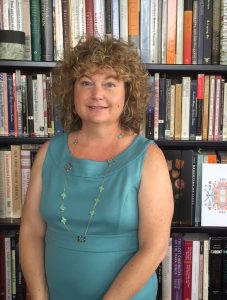 Amy M. Froide, Professor and Chair (Ph.D. Duke University)
Professor Froide teaches courses in British history and European 
Women's History, focusing on the years 1500-1800. Her areas
 of expertise include social, economic, social, women's, and gender history. She
 is the author of Silent Partners: Women as Public Investors during Britain's Financial Revolution, 1690-1750 (Oxford University Press, 2016). Her other books include Never Married: Singlewomen in Early Modern England
 (Oxford University Press, 2005) and Singlewomen in the European Past, 1250-1800 (University of 
Pennsylvania Press, 1999), co-edited with Judith M.
Bennett. Professor Froide has served as the book review editor for the Journal of British Studies, President of the Mid-Atlantic Conference on British Studies, and 
the founding Director of UMBC's Entrepreneurship & Innovation Minor. She holds 
affiliate appointments in UMBC's Gender and Women's Studies program
 and the Language, Literacy, and Culture Ph.D. program. She mentors Master's degree 
students in both early modern British and European women's history. Former students 
have gone on to Ph.D. programs in the U.S. and the U.K.  She is the winner of the 2018 Regents' Award for Teaching Excellence.
Office: 513 Fine Arts Building | Phone: 410-455-2033
Contact: 410-455-2033 | froide@umbc.edu