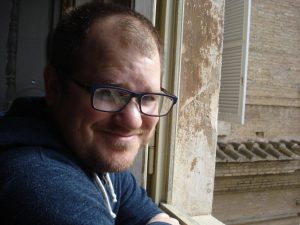 Prof. Brian Van Wyck, Assistant Professor (Ph.D., Michigan State University)
Prof. Van Wyck teaches courses on European, Middle Eastern, and migration history. He specializes in the history of migration from Turkey to West Germany. His current research focuses on how West Germans and Turks grappled with the permanent presence of Turkish guest workers, refugees, and their families in West Germany from the 1960s onward. This project aims to show how policies and practices on teachers and imams from Turkey charged with seeing to the educational and spiritual needs of West Germany's largest immigrant population  reflected as well as shaped notions of race, Islam, and national belonging in both countries.
In the classroom, Prof. Van Wyck is interested in applying lessons from his own research on teaching and learning. Some of his teaching projects have included incorporating independent research in introductory classes and have taken advantage of digital tools to explore new and exciting ways of studying and representing the past.
Prof. Van Wyck has held fellowships at Harvard University, the Free University of Berlin, and Humboldt University of Berlin. His research and studies have been supported by the Social Science Research Council, Fulbright, the Berlin Program, the Critical Language Scholarship, and the Andrew W. Mellon Foundation.
Office:  520 Fine Arts Building, North
Contact:  bvanwyck@umbc.edu